The intercessory prayer ministry consists of dedicated people, who are committed to seeking the face of God, on behalf of our Church, Local Community, and the World at Large, through the avenue of Prayer. We seek to fulfill the will of God in the Earth and impact positive change in the lives of believers and unbelievers consistently directing them to Christ via the vehicle of prayer.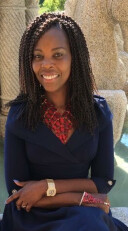 Minister AnnMarie O'Connor, Director

Do you have a specific need or request that you would like us to present before the Lord? Let us know, just fill out and submit a Prayer Request and believe God for the outcome! Email your request to .
In James 5:16 the Bible instructs us in this manner, "Confess your faults one to another, and pray one for another, that ye may be healed. The effectual fervent prayer of a righteous man availeth much."
click to submit your prayer request

Submit your prayer request